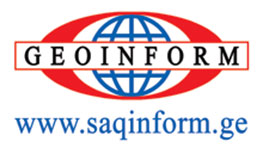 Information-analytical agency GEOINFORM (www.saqinform.ge) has restarted its functioning since September 10, 2010. Under its rubrics about Politics, Society, Economics, Law, Analytics and Interview, Religion, Abroad a wide range of information is represented about events taking place in politics, economics, social life of the society, infringement of human rights in Georgia and overseas developments. The special attention is paid to analytical materials, journalistic investigations, interviews, information about Georgian Orthodox Church and the church calendar, which is provided to the reader on a daily basis.
The photo gallery of the site offers the reader a slide-show and photo spreads, which reflect events deserving attention. The same principle is used for selecting video materials of public interest.
As for the section "Editorial Note", this is an efficient instrument of journalistic team of the agency, which allows for documenting the opinion of information agency GEOINFORM with regard to different developments, making urgent statements concerning some significant issues, causing a big public response.
The web-site of information agency GEOINFORM is one of few in Georgia which has both Georgia and Russian versions. Therefore, in the process of selecting materials the interests of local, as well as foreign readership are taken into account.
For half a year of its existence the agency has set its own image, distinctive features of which are analytical approach and objectivity in presenting reality, regardless of its homeliness and political conjuncture, with the purpose of informing the society impartially, taking prompt measures and possible preventions
Not quantity but exclusiveness of the materials is a priority of the agency. Whether the opinion of editorial board coincides with the opinion of experts – the authors of analytical publications and sources of information does not play any role in this particular case, since the credo of information agency GEOINFORM is presenting free tribune to anyone, even to those with cardinally opposite opinions, thus giving a reason to the society for speculation. Making conclusions is a complete prerogative of readers.
During its short-term existence the information agency GEOINFORM has conducted an opinion poll, participants of which were given opportunity to record their opinions for 11 questions regarding main issues disturbing majority of Georgian population. Results of the mentioned opinion poll were then generalized, analyzes and submitted to the reader in a special social research. At present the agency has started its second opinion poll, which includes 6 questions predetermined by the changing situation in Georgia.
The information partners of the information-analytical agency GEOINFORM are: weekly "Georgia and World" and scientific-popular journal "Historical Heritage" (www.geworld.net); the newspaper "Svobodnaya Gruzia" (www.svobodnaya-gruzia.com); International Union For Salvation of Georgia "The Knight of the Light" (www.natlismkhedari.eu); The Union of Georgians in Russia (www.georgians.ru); Social-religious Internet Journal "Ambioni" (www.ambioni.ge).
Besides, information agency GEOINFORM is a participant of a new project of Ria Novosti "100storon" (www.100storon.ru), which is a common newspaper of CIS countries, Baltic countries and Georgia and in which it represents Georgia.
GEOINFORM has its page in social network Facebook. Besides, we are in the process of registering on other social networks and rating search engines.
Traffic ranking of www.saqinform.ge (www.gruzinform.ge) - the web-site of information agency Gruzinform varies between 1900-2500 visitors daily during workdays. 1000-1500 out of them are unique visitors, although traffic ranking increases up to 3000 and more visitors on those days, when journalistic investigations, expert researches and similar exclusives are put on the web-site.
On January 25, 2011 Catholicos-Patriarch of All Georgia, the Archbishop of Mtskheta-Tbilisi and Metropolitan Bishop of Abkhazia and Pitsunda, His Holiness and Beatitude Ilia II blessed the activities of information-analytical agency GEOINFORM. His words are presented on the top of the home page of the web-site, next to the logo of GEOINFORM.
Arno Khidirbegishvili
General Director and Editor-in-chief of Information Agency GEOINFORM
Our address: Tbilisi, 0199, 6 David Bakradze Str., Georgia
  Tel:  (+99590)830-700 
E-mail: saqinform@mail.ru